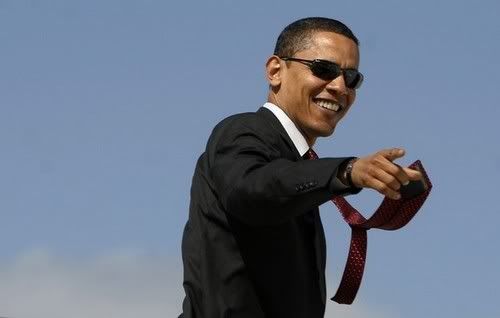 I was reading through a bunch of email newsletters and saw the travel guy I used to respect relating how we might not be able to "trust" Obama. That's when it hit me: Of course he will win. Republicans with attitudes like the newsletter dude need to be pushed aside in favor of positive enforcement that the world is actually a decent place.
Quote from him: "I'm certain that in one case we can [trust the candidate] - a man with a proven record of decades of unswerving integrity and loyal support and love for his country. I fear the other candidate's vision of change (because, for sure, he has no record to run on at all, except that of shadowy associations with people who hate America and wish us harm) may be a dark and scary thing quite different to that which many of his starry eyed supporters wish it to be."
Then the so-called Travel Insider ended with "Nuff said" a smiley face, and I unsubscribed to his letter after seven years. (Travel Idiot for sharing: I'm sure I was one of several hundred who did.)
Obama has done everything in his power to prove himself as a good man — a solid individual who has zigzagged throughout this country telling us what he will do when elected. He's been consistent and has run a fabulous campaign. We know that. But one aspect of his candidacy is hardly spoken about — the fact he has strived to keep everything above board. He has nothing to apologize for and has handled the entire 21 months with aplomb and forthrightness. Even when I wasn't sure of him (admittedly) there was always that part of me that shook my head and said "I wish I could be like that." Even-handed and measured, the way I imagine a president was before I was born.
The fact is, Mrs. Clinton, John McCan't, Tina Fey Palin, Crazy Huck, and most of the other candidates in this never-ending freak show worked our nerves every time we listened to them, tossing out bright shiny objects until we were dizzy. It made me feel bad that they had to take such cheap shots in order to stay in the race. But our man, Senator O, did not see that road, never even took the easy shots at President Bush when Obama could have beaten the Chief up for acting, if not being, a real shmuck.
It's time for the world to stop being snarky at every turn (too easy anyway) and to realize we're all in this together. There's a lot of muck out there and in the end we are better for it when we act respectfully and honorably, no matter what. In the last few weeks of this election season two of the two biggest purveyors of "oh my G-d did you see that" rumors — Gawker.com and Radar magazine — have seen their fortunes die out. This is not by chance. I think us all, Republicans and Democrats alike, so-called independents and the ones who side fervently, have a single thing in common: we want us to stop complaining, bitching, or making fun! Let's see the good side instead of piling on the dirt.
To paraphrase a song from my 20's: Whine time is over. After this election is over, let's all take a deep breath, live with the meltdown, and say out loud: "What can I do to make this a better world?" And to you who think this all sounds Pollyannaish, I offer the final words of this soliloquy:
"Deal with it. You're secretly hoping everyone can start acting like our country (and perhps the world) is one big village. Smile a little. Encourage good behavior. Compliment someone for the hell of it. Don't make fun of the next guy. Just be yourself. Look upwards. Hide from no one. Say something to the person standing by you about where you are headed in life. And celebrate a new beginning, one that says "Uh huh, the last eight years were one big messy period. So what? We don't have to look backwards anymore. We can change."
Congratulations. We are on the way up.
I'm Richard Laermer, and I'm the author of a hopeful book, 2011: Trendspotting.